On 25th July 2023, Vietnam and Israel signed the Vietnam - Israel Free Trade Agreement (VIFTA). This is the first FTA between a Southeast Asian country and Israel and the 16th FTA between Vietnam and global partners.
The signing of the FTA between Vietnam and Israel marks the result of the tireless efforts of two countries after a period of 7 years with 12 negotiation sessions. And It is more meaningful in the context that the two countries are carrying out many essential activities on the occasion of the 30th anniversary of the establishment of diplomatic relations.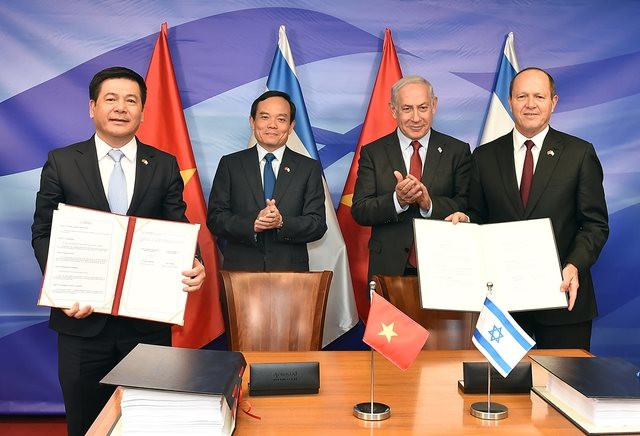 Deputy Prime Minister Tran Luu Quang and Israeli Prime Minister Benjamin Netanyahu joined the signing ceremony of the Vietnam-Israel Free Trade Agreement (VIFTA)
VIFTA is a comprehensive agreement, covering many fields of mutual interest, such as trade in goods, services - investment, rules of origin, sanitary and phytosanitary measures, customs and government procurement,...
The signing and implementation of VIFTA will create a favorable premise for Vietnam to promote the export of its strong products to not only Israel, but also have access to other markets in the Middle East, North Africa and Southern Europe.
In the opposite direction, Israeli goods and technology will not only have the opportunity to access the market of over 100 million people of Vietnam, but also through Vietnam will have the opportunity to access the markets of countries in the ASEAN region and Asia - Pacific and major economies in the 16 FTAs ​​to which Vietnam is a member.
VIFTA is expected to strengthen cooperation between the two countries in investment, trade in services, digital transformation, technology,... VIFTA will create a premise for the two sides to continue to initiate negotiations, move towards signing other agreements such as the Agreement on Investment Promotion and Protection, and continue to improve the legal framework for economic and trade relations between the two countries.