Ocean Network Express (ONE) is based in Singapore announcing about launching a new route Korea China Straits 2 (KCS2).
The new service will start from Busan port on 6th July2023 with the following rotation:
Busan ​​(Korea) – Kwangyang (Korea) – Shanghai (China) – Sekou (China) – Singapore – Port Klang (Malaysia) –Penang (Malaysia) – Singapore – Cat Lai (Vietnam) – Nam Sa ( Guangzhou) – Busan.
In order to exploit potential markets, KCS2 will provide direct shipping services to Penang port in Malaysia and Cat Lai port, which has good access to the Ho Chi Minh City market as well as other production centers in the Southeast Asia and a large agricultural granary in the Mekong Delta of Vietnam.
This is also an improvement from the current PF1 and VSS services that ONE connects to Penang port and Cat Lai port via Singapore.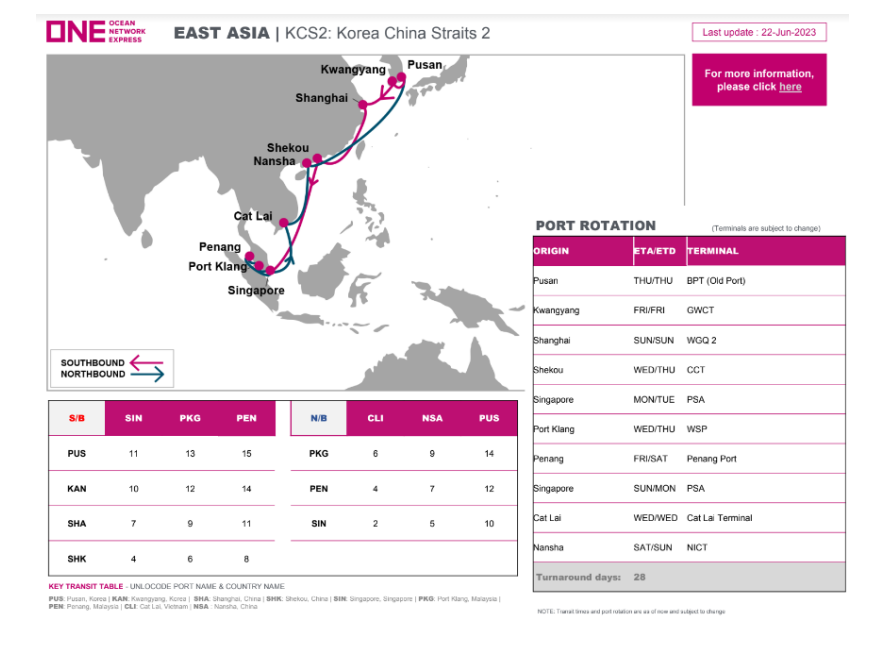 Korea China Straits 2 Service (KCS2)