After 5 years of waiting, the World Bank (WB) has just announced the Logistics Performance Index (LPI) Ranking 2023 on the evening of 21st April, 2023.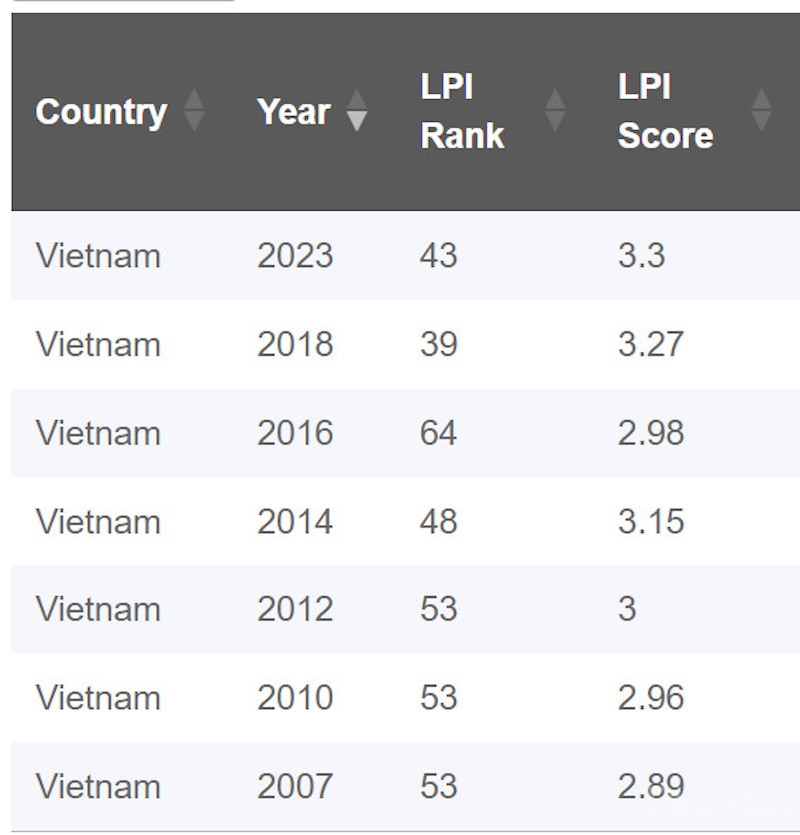 Vietnam's LPI in 2023 ranked 43rd, down 4 steps compared to the "spectacular" 39th of 2018.
Accordingly, the world leader is still Singapore, the second is Finland, the third is Denmark, Germany, the Netherlands and Switzerland. "Logistics is the lifeblood of international trade, and conversely, trade is a powerful driver of economic growth and poverty alleviation," said Mona Haddad, Global Director of Trade, Investment and Capacity of competition, World Bank shares.
Notably, in the LPI rankings in 2023, Vietnam ranked 43rd, 4 steps down from the "spectacular" 39th of 2018. However, in terms of LPI score, it increased to 3.3 points compared to 3.27 points in 2018. Vietnam is in the Top 5 ASEAN after Singapore, Malaysia, Thailand and is in the same position as the Philippines.
Mr. Dao Trong Khoa, Vice President of Southeast Asia Freight Forwarding Federation (AFFA), Standing Vice President of Vietnam Logistics Business Association (VLA) explained, the decrease in logistics Vietnam's position in the 2023 LPI reflects the consequences of confusion during the recent Covid-19 pandemic.
"With negative, over-necessary blockade measures, even "blocking the river to ban the market" have prolonged transportation time, disrupted and disrupted the supply chain, severely affecting production activities and Vietnam's position in the LPI 2023 ranking. In which, three declining components include delivery time, capacity and quality of logistics service enterprises, and the ability to track and trace goods, Mr. Dao Trong Khoa emphasized.
However, according to VLA Vice President, we have a positive point when the LPI score increased to 3.3 points compared to the last announcement and is the highest level since the ranking in 2007 until now. This shows that Vietnam is gradually improving, especially in the component index of the efficiency of the customs clearance process and the quality of infrastructure with the most obvious increase in scores.
"Through the assessment report of the World Bank, the existing problem of Vietnam's logistics service industry is the capacity of logistics service providers. In order to quickly improve the competitiveness of enterprises, it is necessary to accelerate the digitization process, contributing to increasing service quality, shortening time and improving the ability to trace goods"said Mr. Dao Trong Khoa.
Source: Business Forum Magazine